2 February 2012 - Short Message
#Bodywear premiere: #soccer star David Beckham in-store and in a pop-up gentleman's club in #London
On 1st February, David Beckham's H&M bodywear collection premiered in London (worldwide available since today). At the H&M store on Regent Street, people waited hours to see the soccer star. A woman bought the pants for herself; view the scene on YouTube.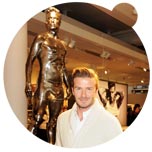 fig.: original: David Beckham in front of the statue showing him in 'David Beckham Bodywear for H&M' on 1st February 2012 at the in-store event on Regent Street. Photo: (C) Dave Benett 2012.
Later in a pop-up gentleman's club, David Beckham's presentation was continued with a party decorated with an over life-sized statue in front of the club and a more 'handsome' one which became the theme in the interview below.
Video: The interview with Bear Grylls (Adventurer) and Dermont O'Lary (TV Presenter) in front of the gentleman's club on 1st February 2012 on occasion of David Beckham's presentation of his bodywear collection for H&M begins at 2:05. The full-length video with interviews with David Beckham, Suzy Menkes... below.
News from
January 2012
December 2011
November 2011
October 2011
September 2011
August 2011

subscribe
terms
imprint
(C) Sawetz, since 1996