Re-styling of an iconic motorbike
On 15 March 2012 at the Diesel Store in New York Soho, the founder of the Italian fashion house Diesel Renzo Rosso presented the new naked motorbike 'Ducati Monster Diesel' in urban military style and the 'Monster Diesel' eleven pieces biker collection consisting of jackets, t-shirts, sweats, accessories, and raw denim jeans.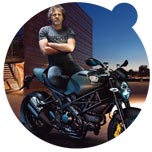 fig. original: Renzo Rosso (founder of Diesel) and Stefano Rosso (project leader of the motorbike-fashion, Ducati-Diesel collaboration) on the new Ducati Monster Diesel at the Diesel headquarters in Breganze, Italy.
Stefano Rosso, project leader and son of Diesel founder, says: "When we had the opportunity to work with Ducati, with last year's MotoGP sponsorship, we discovered a whole world of shared values and common roots. That brought us the desire to create something new together, and we made it in the only way we know: taking the great know-how of both companies and mixing it with passion and creativity. The results are unique products, characterized by a great mix of design and technology."
"I was born a biker." introduces Renzo Rosso to the new motorbike on diesel.com/ducati.
Since 2011, Diesel cooperates with the Ducati-team for the MotoGP. Now, the Diesel-team re-interpreted the iconic Ducati Monster 1100EVO; such as with the 'Diesel Brave Green matte' color on the tank or the passenger seat cover, and re-styled components like the seat or the instrumentation cover. The Ducati Monster Diesel is on tour: on 22 March in Rome, on 29 March in Tokyo. (Available worldwide at Ducati stores from late July 2012 on.)
fig. original: Slim-fitting biker denim jacket 'Desmo' with 'Mohican'-logo on the left arm (the logo is also stitched into the leather upholstered seat of the Ducati Monster Diesel) from the Monster Diesel collection, in stores (Diesel and selected Ducati dealers) since mid-March 2012.
Video: Insights into the work process of the collaborative creation of the Ducati Monster Diesel. The motorbike was unveiled to the public on 15 March 2012 in New York.
Source: Original article with images and video on http://www.fashionoffice.org/motor/2012/diesel-ducati3-2012.htm.

more fashion.at/mobile>

News from
February 2012
January 2012
December 2011
November 2011
October 2011
September 2011
August 2011

subscribe
terms
imprint
(C) Sawetz, since 1996