28 March 2012 - Short Message
#Music: 'Schlawiener' rap about the city of #Vienna by dunkelbunt
Monsieur.dunkelbunt is the extension of dunkelbunt's Facebook page where the German (Hamburg), since 2001 in Vienna living electronic-BalkanBeats-reggae-oriental-dance-hipHop... worldwide touring musician and DJ posted yesterday news about the release of the EP 'Schlawiener'. The new EP will be launched with a party (DJ Farappo, Urban Turban) on 23 April 2012 at Flex in Vienna.

The title 'Schlawiener' is a word creation for 'smooth operator/dodger living in Vienna'.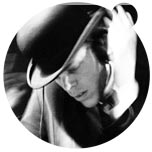 fig.: dunkelbunt (aka Ulf Lindemann) during a DJ session.
"...Mr. Dunkelbunt takes the mic himself for the first time, rapping about Vienna the way he sees it… and his life as a traveller & jetlag junkie. .... Lindemann lives & works in the lovely city of Vienna as a freelance artist since 2001… which of course makes him a true 'Schlawiener'!" dunkelbunt.tk
By listening closely to his rapped impressions of Vienna, it becomes obvious that Ulf Lindemann knows after 11 years living here, the city better than an occasional visitor. The way he sees Vienna is very apropos, spiced with the right amount of Viennese sarcasm (British people call it 'Viennese snide humour') and even the city's historical facts are mixed in Viennese style (this means 'with easiness', 'by the way') into the text such as the following verse referencing the ball tradition, Viennese Waltz, Wolfgang Amadeus Mozart, Sigmund Freud and that the people love the city even if some crimes are not seen as criminal acts:
"...Wir lieben unsere Stadt
Den Flair in Wien weißt eh neunachtel Takt
Hier gab sich Mozart die Kugel und Freud sein Versprechen
Wien ist anders denn hier ist selbst Mord kein Verbrechen...."
Not found yet on Facebook - but the information comes from a serious source: the 'Schlawiener' music video will premiere on 23 April.
Music: 'Schlawiener' by dunkelbunt in Urban Turban Mix - Radio Edit; release of the signed CD and white vinyl in limited edition on 23 April 2012. dunkelbunt is with The Secret Swing Society on tour: on 30 March Cologne, 20 April Münster, 21 April Dortmund, on 23 April in Vienna, followed by live concerts in Hamburg, Bremen ...
News from
February 2012
January 2012
December 2011
November 2011
October 2011
September 2011
August 2011

subscribe
terms
imprint
(C) Sawetz, since 1996