Glamour is the right of women
On the opening day of the Mercedes-Benz Fashion Week Madrid on 1 February 2012, Spanish designer Elisa Palomino presented her new Fall/Winter 2012/13 collection 'Winter Bloom' inspired by Florine Stettheimer's poems 'Crystal Flowers'. The collection pays homage to the expression of femininity under the motto: eccentric glamour is the right of every woman.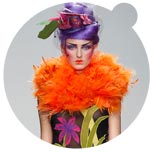 fig. original 1, original 2.
Florine Stettheimer was an US artist and costume designer. She belonged to a circle of 'bohemians' in America who influenced the aesthetics of the following years. She created for example the costumes for Virgil Thomson's opera 'Four Saints in Three Acts' (1934) with libretto by Gertrude Stein.
The opera received little attention in the 30s but "...the production's radical aesthetics and widespread influence on the American artistic scene." is an upcoming lecture on 14 February 2012 by Tirza True Latimer (Visual and Critical Studies, California College of the Arts) about American Modernism announced on stanford.edu.
Peggy Guggenheim or Sarah Bernhardt - to name only two of a long list, are the role models of the collection. Fashion designer Elisa Palomino explains "All of them were cutting-edge icons: painters, poets, novelists, dancers and lesbian lovers. They dressed for their own satisfaction, with enthusiasm and ingenuity, in order to provoke or to horrify, replete with crimson red lips and dresses of Oriental inspiration." The full-length show is published on mercedesbenzfashionweekmadrid.tv.
Find an interview with Elisa Palomino (studied Fashion Design at St. Martins College of Art, London) where she speaks about her fashion and more about the MBFWM (Mercedes-Benz Fashion Week Madrid, 1-5 February 2012) on confashion.com.
Video: L'Oreal - one of the main sponsors of the Madrid Fashion Week, presents on YouTube tips and tricks for make-up inspired by the artful faces on the catwalks; on this video the stage-faces made of colorful eyes, cheeks and (Geisha-kiss) lips at Elisa Palomino's show are re-interpreted as wearable evening make-up.
Source: Original article with images and video on http://www.confashion.com/fw2012/elisapalomino2-2012.htm.

more fashion.at/mobile>

News from
January 2012
December 2011
November 2011
October 2011
September 2011
August 2011

subscribe
terms
imprint
(C) Sawetz, since 1996