9 March 2012 - Short Message
#Fashion #photographer Matt Irwin directs the #music video 'Blood For Poppies' by Garbage from the upcoming album (May 2012)
Garbage's new video for the first single 'Blood For Poppies' from the upcoming album 'Not Your Kind Of People' (release on 15 May 2012, Stunvolume) was recently shot under the direction of fashion photographer/filmmaker Matt Irwin in Los Angeles. Matt Irwin works for magazines like Vogue, Dazed and Confused, fashion labels like Hermès, Armani. Until today there isn't published any visual material about the 'Blood For Poppies'-video online. Perhaps Matt Irwin's pages on the website of the artists agency CLM (photographers, stylists, set designers, etc; London, New York) gives a first taste of what is coming(?).
Lead singer Shirley Manson provides insights into the song's inspiration: "The song is meant to feel sort of like an abstract dream. The inspiration came from a story I had read in The Los Angeles Times about the opium trade and also from watching the documentary 'Restrepo.' It's not literal in any sense whatsoever but it's a song about disorientation and delusion and the human struggle to stay sane in the face of insanity."
Tracklisting of the (standard) album (the deluxe album has four more tracks):
1. Automatic Systematic Habit
2. Big Bright World
3. Blood For Poppies
4. Control
5. Not Your Kind Of People
6. Felt
7. I Hate Love
8. Sugar
9. Battle In Me
10. Man On A Wire
11. Beloved Freak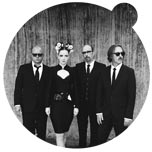 fig. original: The image shows the four members of Garbage: Shirley Manson - vocals; Steve Marker - guitars, keyboards; Duke Erikson - guitars, keyboards; Butch Vig - drums, loops.
Video: Garbage presents the album tracks with following video. The band is on tour in April in US, in May, June, July in European cities like London, Moscow, Paris, Bilbao... Details on garbage.com.
News from
February 2012
January 2012
December 2011
November 2011
October 2011
September 2011
August 2011

subscribe
terms
imprint
(C) Sawetz, since 1996