Moments of privacy in fashion
...seen at the short fashion films of H&M for the new cruise collection by Versace (release exclusively online on 19 January 2012).
Not only the collection has a 50/60ies appeal; the 'Dolce Vita' alike scenery is filmed and photographed from a Paparazzi angle. (The word 'Paparazzo' appeared at first in Federico Fellini's 'La Dolce Vita' movie from 1960.)
Video: H&M presents the Versace collection with short teaser movies. The angle of the camera in the 'secret observer'-position evokes the thrilling moment of suspense. Will there happen something dangerous or is it simply 'Dolce Vita' such as another episode suggests? It lies in the viewer's fantasy.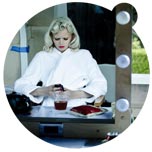 fig.: Images of the H&M cruise collection by Versace. The pieces are designed for holidays (swimwear, homewear...) and spring day wear (dresses, men's suits...).

Source: Original article with images and video on http://www.fashionoffice.org/collections/2012/hm1-2012.htm.

more fashion.at/mobile>

News from
December 2011
November 2011
October 2011
September 2011
August 2011

subscribe
terms
imprint
(C) Sawetz, since 1996