People's taste selects the favorite fashion designer
From 27th January 2012 on, people can make their choice online for the favorite of the six finalists of the H&M Design Award 2012 on designaward2012.hm.com. On the website, the designers and their creations are presented with images, video portraits and written interviews about books, music, inspirations, colors, materials... The winner of the people's choice wins an internship for one month in Christopher Kane's design studio in London.
Alongside to the people's voting, a prominent jury (Ann-Sofie Johansson, H&M's head of design; journalist Hilary Alexander; to name only two) selects the winner of the H&M Design Award 2012 who will receive a prize of 50,000 Euro. Additionally, his or her collection will be shown at the Mercedes-Benz Fashion Week in Stockholm on 1 February.
fig. original: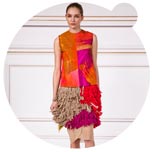 left: Sleeveless top with UV-light interactive neon pink, orange, lilac, gold painting alike pattern with wild skirt made of raw yarns, by H&M Design Award 2012 finalist Isabelle Lundh (Sweden, graduated from Beckmans College of Design in Stockholm). Video: Portrait of the Swedish finalist of the H&M Design Award 2012 Isabelle Lundh: "So my clothes - if you see them in UV-light they have more to give."
middle: The shoulder-free dress in the middle is made from a light-weight, floating material in nude tone with colorful abstract images in circles, by Danish finalist Louise Boye Andersen (The Danish Design School, Copenhagen).
right: Semi-transparent dress over slim trousers with anatomical print inspired by found objects, by the German design duo 'Spörndlikrauthausen' consisting of Laura Krauthausen and Yasar Spörndli (Weissensee Kunsthochschule, Berlin).
Source: Original article with images and video on http://www.confashion.com/ss2012/hmaward1-2012.htm.

more fashion.at/mobile>

News from
January 2012
December 2011
November 2011
October 2011
September 2011
August 2011

subscribe
terms
imprint
(C) Sawetz, since 1996