13 January 2012 - Short Message
#Film episodes of the H&M Design Award with participants from major #design #colleges
...of six countries like the Berlin University of the Arts, the Swedish School of Textiles, or Central Saint Martins, to name only three from fourteen colleges which are presented on the website designaward2012.hm.com from today on until 1st February when the winning collection of the BA graduates will be shown at the Stockholm Mercedes-Benz Fashion Week (live streaming!) and receives a prize of 50,000 Euros; a special People's Prize will be given to the winner of the website voting.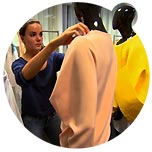 fig.: The film web-series introduces into the work at the colleges, provides designer portraits and impressions from the jury sessions of the H&M Design Award 2012.
"I'm very excited about the H&M Design Award. It's our first ever prize for new young designers, and it's been such an inspiring experience to meet these talented graduates, to hear the vision behind their collections and to see the final result. With the award I hope we encourage young designers around the world to believe in themselves and their creativity. I can't wait to share the experience with everyone on-line." Ann-Sofie Johansson, H&M Head of Design.
Video: Hilary Alexander (fashion journalist), Christopher Kane (designer), Ann-Sofie Johansson (H&M Head of Design), and Rob Phillips (London College of Fashion, Creative Director) speak about the challenges of being a fashion designer and the intention of the H&M Design Award.


News from
December 2011
November 2011
October 2011
September 2011
August 2011

subscribe
terms
imprint
(C) Sawetz, since 1996