African landscapes on silk-cotton scarves
In February 2012, the label 'Larogy' by Austrian designer Martina Rogy (studied at Esmod in Paris and Berlin) presented the new foulard collection created in collaboration with artists who contributed the motifs for the silk-cotton scarves.
Sophie Liebich for example was inspired for her African landscape impressions from the country's positive sides which exist beneath the mediated pictures of civil war and hunger. Sophie Liebich reclaims with her work - by showing a prosperous, green landscape instead of negative images, the viewer as responsible part into the perception of all facets of reality.
"Ein Kontinent, der viel zu oft auf das Negative reduziert wird, hat mir bessere Werte gezeigt. Der Mensch soll dabei nicht ausgeblendet werden, sondern fungiert als beteiligter und verantwortlicher Zuseher, als periodischer Teil des Ganzen." explains Sophie Liebich on larogy.com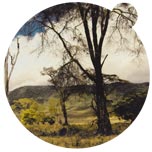 fig. original: Silk-cotton foulard 'Landschaft 2' (limited edition) by Larogy with photo realistic print of an African prosperous, green landscape with trees and plants; art by Sophie Liebich; presented in February 2012.
Photo product by Jürgen Hammerschmid. Photo by Julia Saller; Creative Direction Katarina Vehmas-Cherabon; Model Anna Kuen - Next Company; Make-up, Hair Anita Obi.
Source: Original article with images on http://www.fashionoffice.org/collections/2012/larogy2-2012.htm.

more fashion.at/mobile>

News from
January 2012
December 2011
November 2011
October 2011
September 2011
August 2011

subscribe
terms
imprint
(C) Sawetz, since 1996