Sportive outdoor gear incorporated into elegant urban wear
In March 2012, Levi's presents the 'Commuter'-collection (jeans, jackets, shirt) spring/summer 2012 especially designed for urban bicycle riders. It is announced that the collection will be available also in bicycle stores like at 'FixDich – Track Bike Boutique' in Vienna.
The 'Commuter'-pieces are made of comfortable stretch twill - from classical denim to colored versions like beige. The materials of jackets and trousers are equipped with high-technology textile applications such as NanoSphere treatment (for water resistance, durability, keeps the fabric longer clean). The patterns provide biker features like higher back on the jeans or a hood which is packed into the collar of the jacket 'Hooded Trucker'.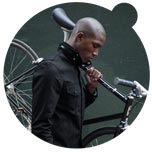 fig. original: The dark blue, stretch twill 'Hooded Trucker'-jacket in military style is equipped with high-technology textile applications (NanoSphere treatment...), has a hidden Nylon-hood in the collar, longer sleeves and longer back. The pattern of the blue shirt provides a special venting system for better breathability. The beige 511 Levi's are made of stretch twill with features known from sportive outdoor wear like reflective tapes. At this urban collection with elegant touch, the tapes are sewn inside the hems and become visible when the biker upends the trousers' ends.
Video: Campaign video for the Levi's 'Commuter'-collection which is designed especially for urban bikers. Music 'Crystal Ball' by Grimes.
Source: Original article with image and video on http://www.fashionoffice.org/collections/2012/levis3-2012.htm.

more fashion.at/mobile>

News from
February 2012
January 2012
December 2011
November 2011
October 2011
September 2011
August 2011

subscribe
terms
imprint
(C) Sawetz, since 1996