The style of 'replica'
...seen at the menswear by Maison Martin Margiela Fall/Winter 2012/13 where a...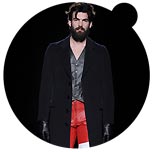 fig. original:
light-weight down-coat in shiny material is designed in a way that the man appears just as if he wears a heavy dark fur animal skin manteau. The rubber alike vest below is only one of a series of pieces in this collection with references to fetish fashion
dynamic red/white trousers - a replication of a bike racer's legwear, are presented in a 'controlled' combination with an elegant city frock-coat
and the label's plastic bags are re-worked as a parka-overcoat which is filled with downs; an additional style of 'replica' - a 'reduplication'.

Video: Maison Martin Margiela menswear Fall/Winter 2012/2013, 21 January 2012 in Paris.
Source: Original article with images and video on http://www.confashion.com/fw2012/martinmargiela1-2012.htm.

more fashion.at/mobile>

News from
January 2012
December 2011
November 2011
October 2011
September 2011
August 2011

subscribe
terms
imprint
(C) Sawetz, since 1996