Fabrics for spring/summer 2013
...are exhibited from 31 January until 2 February 2012 at the seasonal fair 'Munich Fabric Start'. The fair with areas like 'Blue Zone' (denim weavers, washers, sportswear material finishers - from vintage looks to futuristic coatings) or the 'Asia Salon' (from Asian fabrics to high-tech systems for outerwear, fashion on the web...) counts exhibitors (fabric manufacturers, button makers...) and visitors (buyers from the clothing industry, fashion media) from all over the world.
In January 2012, more than 800 exhibitors from 36 countries will present the trends for spring/summer 2013 to expected 17,700 professionals.
New is the section 'Shirtings' where labels like Testa, Leggiano, Getzner Textil AG... will show fabrics especially for shirt makers.
The platforms 'organicselection' and 'Eco Village' (initiated in 2010) will be continued and inform about fair trade, innovations in ecological production/certification and non-profit organizations which work in the fields sustainability and environmental awareness.
On its website, Munich Fabric Start offers previews of the industry's colors (with Pantone numbers) of five important trend themes of the new season munichfabricstart.com/catalog-and-color-cards.html.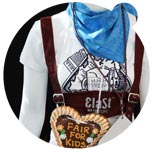 fig. original: View at the Munich Fabric Start AW2012/13, September 2011.
Source: Original article with image on http://www.fashionoffice.org/collections/2012/munichfabricstart1-2012.htm.

more fashion.at/mobile>

News from
December 2011
November 2011
October 2011
September 2011
August 2011

subscribe
terms
imprint
(C) Sawetz, since 1996