Fashion sport device made of shoe, chip, app
In February 2012, Nike presents new digital equipped shoes with athletes like American NBA player 'King James' LeBron James.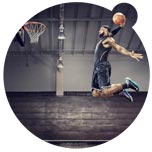 fig. original: LeBron James. Photo: Nike.
After Nike presented already in 2006 shoes with integrated computer tracking of the running performance, the new Nike+ Basketball and Nike+ Training 'fashion sport devices' will be available from June 2012 on. The Nike+ wearable technology consists of a shoe with chip which sends the performance data of the athlete via App to a smartphone where it can be analyzed ('Track My Game'-modus), stored, and shared via social media as a self-filmed video with embedded statistics ('Showcase'-modus) to your 'friends or rivals' such as LeBron James introduces into the wearable technology (video below).
The first digital tracking basketball shoe will be the Nike Hyperdunk+ which will be worn by LeBron James this summer: "I think Nike+ Basketball will change the game. Giving every player access to this level of information will have a huge impact on the way players train and play the game." nikeinc.com/lebron-james/
Video: LeBron James ('King James' plays for the Miami Heat of the NBA - National Basketball Association, US) introduces into the fashion/sport technology by Nike+.
Source: Original article with image and video on http://www.fashionoffice.org/collections/2012/nike2-2012.htm.

more fashion.at/mobile>

News from
January 2012
December 2011
November 2011
October 2011
September 2011
August 2011

subscribe
terms
imprint
(C) Sawetz, since 1996