22 February 2012 - Short Message
#Music: 'The Good Leaf' by Seun Kuti and Egypt 80 in a remix by Spoek Mathambo
Recently, the 'The Good Leaf' by Seun Kuti in collaboration with the legendary Afro-beat orchestra 'Egypt 80' from the Brian Eno-produced album 'From Africa With Fury: Rise' in a remix by South-African producer/musician Spoek Mathambo was published on thefader.com together Seun Kuti's US tour dates (SXSW, Coachella, New Orleans Jazz and Heritage Fest, Lake Eden Arts Festival...).
The release of additional electronic remixes of selected tracks from Seun Kuti's collaborative album with Egypt 80 (the orchestra is known from Seun's father musician Fela Kuti) is announced for 10th April 2012 under the title 'Form Africa with Fury: Rise Remixes':
1. For Dem Eye (Ron Trent Juju Remix)
2. The Good Leaf (Spoek Mathambo Remix)
3. Slave Masters (Jacques Renault Remix)
4. African Soldier (JD Twitch Remix)
5. You Can Run (Falty DL Remix)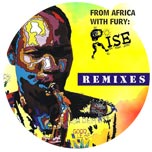 fig. original: Cover 'Form Africa with Fury: Rise Remixes' by Seun Kuti and Egypt 80 (10 April 2012, Knitting Factory Records).
News from
January 2012
December 2011
November 2011
October 2011
September 2011
August 2011

subscribe
terms
imprint
(C) Sawetz, since 1996