Windy outfits
Wind inspired Hussein Chalayan's 'Secured Speed' collection for Puma; and wind is the theme of Rapanui's t-shirt 'Revolutions'.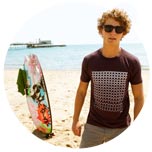 fig. original: The men's bamboo t-shirt 'Revolutions' by Rapanui (2012) stands for green energies instead of nuclear power. The eco friendly ink print shows on the first sight a geometrical pattern. But it's a sort of a graphical story made of single pictures where the Nuclear Radiation Warning logo transforms into the 'Wind Turbine' symbol for sustainable energies. In February 2012, the award winning eco brand Rapanui (founded 2008 in UK, works with materials like eucalyptus tencel and manufactures in accredited wind powered factories) was on tour in Germany such as at the ISPO 2012 to present the label's environmental friendly casualwear (t-shirts, tops, sweats, underwear) to distributors globally. Rapanui provides QR codes on swing tickets which allow smartphone users to trace the production process (where and how) of the product. Rapanui publishes the 'Traceability-Map' online: from the seed over spun, sewn to transport. Even the shops such as 'Earth Wind & Water' on the Isle of Wight (UK) or 'My Yoga' in Eindhoven (NL) are published on the label's website via a map.
fig. original: Wedges made of mandarin-red net with comfortable white block-sole and multi-colored bag from the Puma X Hussein Chalayan SS2012 'Secured Speed'-collection inspired by the wind, flying and sports like paragliding and sailing; the collection pieces are made of light-weight materials and appear in traditional Japanese Kabuki-theatre colors. The metallic-violet wind jacket and the rosé colored shorts are from the Puma Black Label SS2012 collection.
Source: Original article with images on http://www.fashionoffice.org/collections/2012/summerstyle2-2012.htm.

more fashion.at/mobile>

News from
January 2012
December 2011
November 2011
October 2011
September 2011
August 2011

subscribe
terms
imprint
(C) Sawetz, since 1996