Swimsuits in classical style
...presented by the Austrian luxury brand Wolford for Spring/Summer 2012. The photos of the swimsuits with color-matching swim caps make think of Flapper Girls of the 1920ies; especially the electric-blue piece with the symbolic corsage detail in the front remembers these times when women began to use the (former obligatory) corsage for seduction only.
The fruity-orange colored swimbody (right) without any seams in the front has a sportive 80s/90s appeal, and the ruby-red (left) is made of material with 3-dimensional structure which fits nice to the construction of the suit consisting of a seemingly standalone bra that is worn in combination with (very) high waist briefs.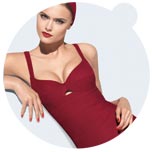 fig. original: Ruby-red swimsuit by Wolford SS2012. Photos: (C) Wolfgang Pohn.
Source: Original article with images on http://www.fashionoffice.org/collections/2012/wolford3-2012.htm.

more fashion.at/mobile>

News from
February 2012
January 2012
December 2011
November 2011
October 2011
September 2011
August 2011

subscribe
terms
imprint
(C) Sawetz, since 1996