Paris-based Californian Rick Owens' shoe collection for adidas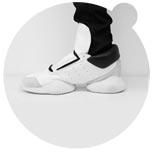 fig. original: On 27 June 2013 during Paris Fashion Week, adidas presented the new 'adidas by Rick Owens' Spring/Summer 2014 collection of sneakers (six models for men, four for women). The footwear collection comes into stores in December 2013.
The concept of the sneakers is 'shoes as trainers'. The California born (1962) now in Paris living designer Rick Owens created the trainers from his "personal desire for chic sneakers to motivate his cardio efforts."
In the recently uploaded interview (video below, min 22:00), Rick Owens says: "I wear me. .... I go to the gym every day, that's kind of my couture." But this is not a proclamation of what to do; the designer doesn't like rules.
Video: Rick Owens speaks with Sofia Tchkonia about his start into the fashion business, the first years in Los Angeles as pattern maker, the challenge of the fashion system with seasonal collections and runway shows, the experiences he made with manufacturers from various countries, his relationship to his wife Michele Lamy, his LA-based parents visit who him regularly in Paris, about other designers he likes such as Gareth Pugh, to name a few topics. At the end of the interview, Rick Owens provides some hints of what is important for making fashion: (min 23:48) "...kissing somebody's ass isn't gonna really help that much; I mean unless it's good..."
Source: Original article with image and video on http://www.fashionoffice.org/collections/2013/adidas6-2013.htm.

more fashion.at/mobile>

News from
June 2013
May 2013
April 2013
March 2013
February 2013
January 2013
December 2012
November 2012

subscribe
terms
imprint
(C) Sawetz, since 1996