Styria Insight by Karin Sawetz, publisher Fashionoffice
Aerobatics, chicken and chips at the 'Airpower' flight show
On 28 June 2013, I visited the 'Airpower' flight show in Zeltweg in Styria, Austria. It was the first time ever that I visited a mass event of such big proportions. We didn't park in Zeltweg; ohhh nooo! We parked in another town - don't ask me after the name; perhaps I walked through two towns, I don't know. Fact is that I had enough time to sniff country air on my way to the flight fields while I worked on my sporty thoughts for overcoming the distance. The nearer I came to the start and landing fields of the Airpower event, the more the country air was mixed with airplane scent. Other notes which filled seductively my nose were chicken and chips - which I couldn't resist. Find photos from the two-day Airpower event (28 and 29 June) on airpower.gv.at.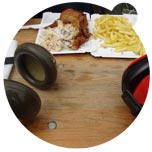 fig. original: The image shows a table with noise protection equipment in front of chicken and chips; photo captured on the way to the flight fields of the Airpower show in Zeltweg in Styria, Austria; 28 June 2013.

Video of the Airpower 2013 training flights of Suisse/Cougar/Frecce. I saw Patrouille Suisse live on 28 June 2013.
Source: Original article with image and video on http://www.fashionoffice.org/motor/2013/airpower6-2013.htm.

more fashion.at/mobile>

News from
June 2013
May 2013
April 2013
March 2013
February 2013
January 2013
December 2012
November 2012

subscribe
terms
imprint
(C) Sawetz, since 1996