Car name 'Disco Volante' crowd-created in the 1950s

It's not just the car's name 'Disco Volante' - an early crowd-creation from the 1950ies, which is fascinating; it's also the car's (name giving) elegant retro sciFi style.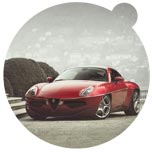 fig. original: On 28 May 2013, the Alfa Romeo Disco Volante by Touring won the 'Design Award for Concept Cars & Prototypes' at the 2013 edition of the Concorso di Eleganza di Villa d'Este for its elegant retro-sciFi look.
The two-seater coupé was crafted by the Milanese atelier on the base of the Alfa Romeo 8C Competizione and shares its chassis and engine, the lines recall the Alfa Romeo 1900 C52 designed in 1952 (watch the car in the video). Disco Volante's aerodynamic form is made from carbon fibre and aluminium for minimal weight. Each car requires more than 4000 hours of labor and is built only on request. On view on this page is car number 01 which was on show at the Concorso. Another two will shortly be completed.

Alfa Romeo provides insights into the history of the name creation of the 1900 C52 from 1952. "Designed by Carrozzeria Touring in 1952, the C52 boasted the characteristics of extremely light weight and aerodynamic efficiency, making a great impact in the collective imagination and earning itself the nickname of 'Disco Volante' (Flying Saucer)."
Source: Original article with images on http://www.fashionoffice.org/motor/2013/alfaromeo5-2013.htm.

more fashion.at/mobile>

News from
May 2013
April 2013
March 2013
February 2013
January 2013
December 2012
November 2012

subscribe
terms
imprint
(C) Sawetz, since 1996