Equipment for aqua fitness
...seen in early February 2013 at Aqua Sphere.
Recently, Fashionoffice presented Aqua Sphere's insights into the healthy sport swimming with the advice to use calorie calculators for choosing the swim style and an example of swimwear from the label's active line. Now on this page, items for more female and pregnant women are on focus. The special patterns and use of fabrics for the pieces from these lines are not only forming the figure, they are supporting the body.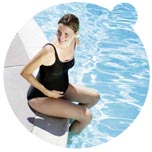 fig. original: Aqua Sphere's maternity swimsuit 'Isis' is made from quick-drying 'Aqua-Fit' material with additional soft lining. The swimsuit is designed to be used over the duration of pregnancy until the 9th month.

fig. original: The 'Alpha' fins by Aqua Sphere enhance the results of the training of the muscles of the legs and back and improve this way the posture.
Source: Original article with images on http://www.fashionoffice.org/collections/2013/aquasphere2-2013.htm.

more fashion.at/mobile>

News from
January 2013
December 2012
November 2012
October 2012
September 2012
August 2012
July 2012

subscribe
terms
imprint
(C) Sawetz, since 1996