How to treat swimwear?
In March 2013, Fashionoffice collected some tips for the proper treatment of swimwear. The water sports brand Aqua Sphere sent practical care tips for bikinis and swimsuits which are made from functional materials with special fibres to guaranty elasticity and comfort during sports activities and quick drying afterwards. But there exists no fibre and fabric texture that would not be affected by not washed out chlorine or salt after swimming. The tip is to wash the swimwear after water activities with clean water. Aqua Sphere remarks that the label 'chlorine resistant' refers only to the actual time in the water not on dried residues.
It's similar to human skin, hair and nails which can be damaged by chlorinated water, salty water, and UV rays. You can even protect the swimwear against UV rays - let it dry in the shadow, but never enclose it too long into a bag when it's wet.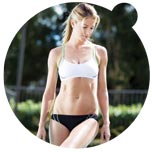 fig. original: Bikini 'Sirka' with black briefs and white top with mint-green stripes, by Aqua Sphere, seen in early March 2013.
Source: Original article with image on http://www.fashionoffice.org/collections/2013/aquasphere3-2013.htm.

more fashion.at/mobile>

News from
February 2013
January 2013
December 2012
November 2012
October 2012
September 2012
August 2012

subscribe
terms
imprint
(C) Sawetz, since 1996