The style of cars re-interpreted for women's handbags

...seen on 15 August 2013 at the upcoming collections by Bentley Motors and Porsche Design.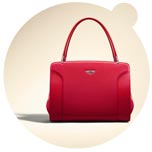 fig. original: Bentley Motors will launch the Bentley Handbag Collection at the 'Pebble Beach Concours d'Elegance' automotive event on 18 August 2013 in California. The collection consists of two models and two colors: the 'Barnato' (above, in red) and the 'Continental' (on the image in black). The first mentioned is named after Diana Barnato, "...socialite daughter of Woolf Barnato, one of the original 'Bentley Boys' and chairman of the company. She was an experienced Bentley driver and an accomplished aviatrix. Diana was the first British woman to break the sound barrier and always portrayed both daring and glamour in equal measure," introduces Bentley into the inspiration of the 'Barnato' handbag. "The 'Continental' is named for one of Bentley's famed model lines, used on successive generations of Grand Tourers since 1952 and the underpinning of the brand's current success since the two-door Continental GT coupe was launched in 2003."
fig. original: In October/November 2013, the new handbags by Porsche Design will come into stores. The HollyBag (three in the first row, below the right one) and the MetricBag are both manufactured in Florence and will be available in various colors such as (from above and left) cognac, black, blue, (next row) ebony, latte, or the color combination white/black.
Source: Original article with images on http://www.fashionoffice.org/motor/2013/bagsbycarlabels8-2013.htm.

more fashion.at/mobile>

News from
July 2013
June 2013
May 2013
April 2013
March 2013
February 2013
January 2013

subscribe
terms
imprint
(C) Sawetz, since 1996