Bike-picnic fever
...in Vienna in June 2013. Whether it's caused by Vienna Bike Week (9 until 16 June) with events like the Bicycle-Picnic Freudenau with Brompton race (image below) or is it only the right season for bike-picnic; currently Vienna is infected by this culinary-sports fever. Today (11 June), Fashionoffice received tips by Depot for styling up picnic and bike with practical design items.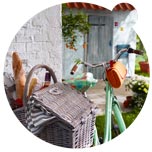 fig. Depot presents: Bike bell with dots in various bright colors, vintage grey picnic basket, fleece blanket in fresh orange; seen in June 2013 at Depot's 'Picknick'-collection on depot-online.com.

fig. original: The image shows the start of the Brompton race at the Bike-Picnic Freudenau in Vienna on 9 June 2013. Brompton race cyclers should wear business alike outfits with suit jacket and tie together with protective helmet. Sports pieces made from stretch are not allowed. Most of the Viennese bicyclers followed the official dress code.

Source: Original article with images on http://www.fashionoffice.org/cuisine/2013/bike-picnic6-2013.htm.

more fashion.at/mobile>

News from
May 2013
April 2013
March 2013
February 2013
January 2013
December 2012
November 2012

subscribe
terms
imprint
(C) Sawetz, since 1996