Insights into female farmers' kitchens and lounges
On 8 September 2013, female farmers from the Ramsau at Dachstein in Styria, Austria organize the walking tour from one farmyard to the next - the so called 'Hofwanderung', with three culinary stops for small dishes (named in Austria 'Jaus'n') like coffee and cake. Some of the farm buildings were built around 500 years ago and even the kitchen recipes are probably not very much younger - perhaps two-three hundred years old recipes that are adjusted for today's taste.
The female farmers from the Ramsau share for the first pre-taste following Blueberry Pancake (Heidelbeerschmarren) recipe (original German version at the end of this page):
The Heidelbeerschmarren (Schwarzbeerschmarren) is a pancake made with freshly picked blueberries.
Ingredients:
10 dag blueberries
2 eggs
salt
butter
10 g flour
1 dl milk
sugar
icing sugar
Preparation: Separate the eggs. Whip the egg whites with 1 pinch salt very slowly (so the snow is stable and does not immediately coincide) until the mixture is stiff. Mix yolk with flour, milk and 2 tablespoons sugar. Fold the snow gently under the batter. Melt some butter in a nonstick pan. Fill in the dough. Spread the blueberries on the batter. Let it cook shortly in a hot pan, then move it into the 200 degree hot oven and bake the cake ten to 15 minutes, until it becomes golden. Use a fork to partition the cake - such as on view on the photo, into large pieces, slightly push butter and 1 to 2 tablespoons sugar under the tripe and roast it on the stove over high heat until the sugar caramelizes. Powder it with icing sugar and serve it.
For the ones who are interested in hiking in the region, Fashionoffice collected recently information about the history of mountaineering at Dachstein.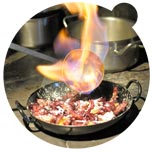 fig. original: The image shows the making-of a Blueberry Pancake Flambé, sent on occasion of the culinary walking tour organized by female farmers through the Ramsau at Dachstein, Styria in Austria on 8 September 2013. Photo: (C) Sieder Sibylle - Shootingstar.
fig. original: The Ramsbergerhof from outside as well as inside (the lounge on the image right). The farmyards in the region of Ramsau at Dachstein are around 500 years old; seen in August 2013. Photos: Ramsbergerhof - Herbert Raffalt.
Source: Original article with images on http://www.fashionoffice.org/cuisine/2013/blueberrypancake8-2013.htm.

more fashion.at/mobile>

News from
July 2013
June 2013
May 2013
April 2013
March 2013
February 2013
January 2013

subscribe
terms
imprint
(C) Sawetz, since 1996