20 July 2013 - Short Message
#Movie 'Born in Flames' about #feminists, social revolution; Kunsthaus Bregenz, #Austria on 6 Aug
Kunsthaus Bregenz in Vorarlberg (Austria) collected some movies under the project title 'Back to the Future' and will screen them between 5 and 11 August 2013. One of the movies is the documentary styled SciFi cult film 'Born in Flames' from 1983 about feminists ten years after a social revolution. The film by Lizzie Borden (starring Honey, Kathryn Bigelow...) shows women at radio stations working for equality and against racism and patriarchical behavior.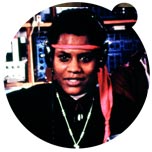 fig. original: Film still of Lizzie Borden's documentary styled science fiction movie 'Born in Flames', 1983. Photo: (C) Lizzie Borden.

"As both a document and a utopia, Lizzie Borden's film looks back at the history of the feminist movement, whilst simultaneously opening perspectives on a future in which women have banded together to pursue their aims." kunsthaus-bregenz.at. 'Born in Flames' will be shown on 6 August at Kunsthaus Bregenz.
The video originates from Jenny Woolworth's Women in Punk Blog; find there an interview with Lizzie Borden.
News from
July 2013
June 2013
May 2013
April 2013
March 2013
February 2013
January 2013

subscribe
terms
imprint
(C) Sawetz, since 1996