Vintage design of bicycle racing helmets for city bikers
...seen in mid-June 2013 at the foldable helmet collection by Carrera.
The design of the helmets - which are on view on this page - is derived from old bicycle racing leather helmets also called 'hairnets'. Carrera's design team worked three years on the development of the foldable construction for achieving the internationally required safety level (EN 1078 certification). The polycarbonate helmet with nylon inserts covers the head with a flexible frame and can be stored space saving.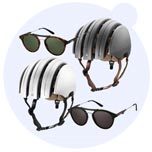 fig. original: Two foldable 'Premium Version' helmets by Carrera styled with Carrera '6008' sunglasses; seen in mid-June 2013.
The video introduces into the design development of the foldable helmets by Carrera.

Source: Original article with image and video on http://www.fashionoffice.org/collections/2013/carrera6-2013.htm.

more fashion.at/mobile>

News from
May 2013
April 2013
March 2013
February 2013
January 2013
December 2012
November 2012

subscribe
terms
imprint
(C) Sawetz, since 1996