29 January 2013 - Short Message
#Music video for 'Flatlands' by #ChelseaWolfe in collaboration with fashion label #Converse
Chelsea Wolfe is known for her signature voice and artful fashion like hand accessories and nail decoration in gothic style such as on view in her latest video for the track 'Flatlands' in collaboration with sneakers and clothing label Converse and Decibel Magazine. (Bullett provides some behind-the-scenes views from the shooting.) Additionally, Chelsea Wolfe shared the remix of 'Flatlands' by the Swedish synth-pop duo Lust For Youth; Stereogum publishes and comments the remix: "...the song is transformed into … an electro-goth track".
Video: 'Flatlands' by Chelsea Wolfe, Converse x Decibel Collaboration.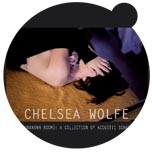 fig. Detail of the album cover: The song 'Flatlands' appears on the album 'Unknown Rooms: A Collection of Acoustic Songs' (released on 16 October 2012 via Sargent House; find an interview with Los Angeles based singer-songwriter Chelsea Wolfe about her album on Pitchfork).
Chelsea Wolfe is on tour in US (Baton Rouge, Houston, Austin...), chelseawolfe.net/shows.
News from
January 2013
December 2012
November 2012
October 2012
September 2012
August 2012
July 2012

subscribe
terms
imprint
(C) Sawetz, since 1996