The differences at online shoe shops for girls and boys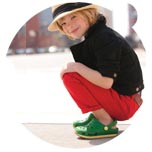 fig. original: In early March 2013, Crocs presented new spring collection pieces for kids such as the classical Crocs in retro 70ies clogs design in many color combinations from green with yellow stripe along the sole to fuchsia with sea blue. The brand new retro models can be found in the online shop for girls as well as at the boys' category in all colors.
But then there are the creative clogs with comics figures. Scooby Doo or Mickey Mouse are shown at both online shops, for girls as well as for boys (fast checked on 3 March). But girls won't find clogs like the ones with the Mater and Finn McMissile illustrations from the Pixar/Disney computer animated movie 'Cars 2' in their shop although cars are used by both, girls and boys. Otherwise, it doesn't surprise that boys have to visit the girls' shop to find the Dream Princess (photo, illustration by Disney).
Source: Original article with images on http://www.fashionoffice.org/collections/2013/crocs3-2013.htm.

more fashion.at/mobile>

News from
February 2013
January 2013
December 2012
November 2012
October 2012
September 2012
August 2012

subscribe
terms
imprint
(C) Sawetz, since 1996