Diesel's flyposters for #DIESELREBOOT
For the duration of six weeks over summer, Diesel applied flyposters for the activation of the #DIESELREBOOT social media campaign in cities all over the world; in Austria, the photos with motto were posted in Graz and Vienna through August 2013.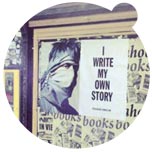 fig. original 1 2: Flyposters of the #DIESELREBOOT campaign with the slogan 'I write my own story' (image above); the image below shows one part of the poster which carries the writing 'I resurrect the destructed'; applied in Vienna and Graz in August 2013. Photos: Diesel.
The posters are invitations for publishing the own style and view on freedom, originality and bravery on Diesel's Tumblr website. #DIESELREBOOT is Nicola Formichetti's first project as Artistic Director of Diesel and was continued this month in September by ads for print and digital media. The images of selected protagonists such as Ira Chernova (born in Moscow, now based in New York) were captured by the photographers Inez and Vinoodh; view the ad with protagonist Ira on Google+ where it is posted with her life philosophy and link to her website; additionally, Diesel made a short video with Ira Chernova.
Nicola Formichetti says that "the idea for this campaign was to merge the classic portrait photographic style featuring the new heroes of today's generation: the digital influencers and creators. Visually, I wanted to highlight the individual beauty of our community. It was less about capturing fashion and more about getting an insight into these people's souls."
fig. original: Today (17 September 2013), Fashionoffice uploaded an image for depicting the magazine's view on heroes of today's society with the motto 'civilization as community' via Twitter for #DIESELREBOOT. The picture was shot at the Korean Pavilion during Biennale di Venezia this year (open until 24 November 2013). The image shows parts of artist Kimsooja's holistic installation 'To Breathe: Bottari' which consists of two different rooms - one full of light and reflections, the other is filled with darkness. The mirror room reflected the visitors and changed with the moves of the people.
Source: Original article with images http://www.fashionoffice.org/culture/2013/diesel9-2013.htm.

more fashion.at/mobile>

News from
August 2013
July 2013
June 2013
May 2013
April 2013
March 2013
February 2013
January 2013

subscribe
terms
imprint
(C) Sawetz, since 1996