Fashionoffice's favorite partywear pieces
...from the upcoming H&M 'Conscious Exclusive' collection, selected at the end of March 2013.
On 4 April 2013, H&M will release the new festive partywear collection 'Conscious Exclusive' with clothing, shoes and accessories for women and men. The collection will be available on the same day in stores and online, worldwide. H&M describes the Conscious collection - the name 'Conscious' is derived from H&M's design approach that foresees the work with sustainable materials like organic cotton or recycled polyester, as "full of Hollywood" glamour.
Fashionoffice looked closer and picked the magazine's four favorite pieces from the 'Conscious Exclusive' collection.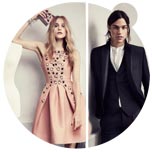 fig. original 1 - 2. For her: Embellished dusty pink dress and box clutch (the style reminds the early 60ies) and shoes with high heels and ankle-strap in minimalistic design. Below, the floor-length dusty pink gown with entirely open back is made from 100% recycled polyester. For him, a collarless white shirt combined with black three-piece tuxedo. On the next image, the white three-piece suit. The items are selected from the 'Conscious Exclusive' collection by H&M (release on 4 April worldwide), previewed at the end of March 2013.
Source: Original article with images on http://www.fashionoffice.org/collections/2013/hm3-2013.htm.

more fashion.at/mobile>

News from
February 2013
January 2013
December 2012
November 2012
October 2012
September 2012
August 2012

subscribe
terms
imprint
(C) Sawetz, since 1996