Preview to the collaboration between athletes and fashion for Olympic Games 2014 and 2016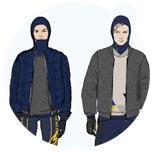 fig. original: On 17 April 2013, fashion label H&M announced the collaboration with the Swedish national teams for the next Olympic/Paralympic Games in Sochi (Winter, 2014) and Rio de Janeiro (Summer, 2016).
The Swedish label will provide the dressing for all teams of the Olympic and Paralympic Games for the Opening and Closing Ceremonies in 2014 and 2016. Additionally, the athletes will train and relax in H&M pieces while their stayings in the Olympic villages in Sochi and Rio.
H&M states that the design of the Olympic collections will incorporate Swedish heritage and will be developed and tested together with the sports men and women.
For Anja Pärson, former alpine skier and multiple Olympic medallist, the collaboration is a great opportunity to represent Sweden by wearing clothes from a globally active company that has its headquarters in the country. She says that it "...will strengthen the team, our team spirit and image to the outside world, especially when it is an internationally renowned brand like H&M".
"The designs will bring together sport and fashion in a totally new way...," says Ann-Sofie Johansson, H&M's head of design. Already in January 2014, H&M will release the first results of the collaboration with the athletes as an expanded H&M sports collection.
Source: Original article with image on http://www.fashionoffice.org/collections/2013/hm4-2013.htm.

more fashion.at/mobile>

News from
March 2013
February 2013
January 2013
December 2012
November 2012
October 2012
September 2012
August 2012

subscribe
terms
imprint
(C) Sawetz, since 1996