Outfit inspired by the European Alps horse 'Haflinger'
On 16 September 2013, Fashionoffice was inspired by the Austrian mountain horse 'Haflinger' (the breed originates from Tyrol in 1874; picture of a Haflinger foal below) and collected some Autumn/Winter pieces from shops of European retailers for an outfit under the motto 'horse riding'.
fig. original: The red cap and fake-fur vest are from the collection by retailer Madeleine. The riding wear inspired boots in cognac are by Pat Calvin, seen at Humanic; and the vintage pocket watch is announced to be available at the 'Must Have Accessories' collection at the Libro online shop. (The images were sent by the shops.) The items look nice in combination with blue denim jeans trousers and jacket.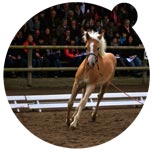 fig. original: From 27 to 29 September 2013, Fohlenhof Ebbs in Tyrol, Austria will present the 'blonde' stallions and foals (auction on 28 September) with an opening show for guests from the whole world. Photo: pro.media kommunikation.
Source: Original article with images on http://www.fashionoffice.org/collections/2013/horseriding9-2013.htm.

more fashion.at/mobile>

News from
August 2013
July 2013
June 2013
May 2013
April 2013
March 2013
February 2013
January 2013

subscribe
terms
imprint
(C) Sawetz, since 1996