Intimissimi's lingerie trends and #italianjourney campaign
In early September 2013, Italian brand Intimissimi presented the new lingerie trends autumn 2013 with images and #italianjourney campaign video with the title 'In The Woods' with model Tamara Lazic who was filmed while walking through a mysterious Italian forest (video below).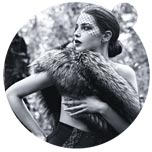 fig. original: The black/white image shows Tamara Lazic in 'Venus in Furs' pose with net over her eyes and Intimissimi corsage in black lace; autumn 2013. Tamara - born 1990 in Krusevac in Serbia, was photographed by Raphael Mazzucco.
The photo and video belongs to Intimissimi's #italianjourney. Fashionoffice posted the following image of Venice to the brand's social media campaign.


In June 2012, Intimissimi initiated the hashtag #italianjourney and invites since then users to post photos from Italy via social networks like Twitter. The pictures will be collected by Intimissimi and published on the label's website. Fashionoffice shared an image which was taken this May on the press day of Biennale di Venezia. The picture was posted with hashtag #italianjourney and link to the Biennale article-series via Twitter.

Video: Tamara Lazic in Intimissimi's #italianjourney video 'In The Woods' for the presentation of autumn 2013 lingerie.
Source: Original article with images and video on http://www.fashionoffice.org/collections/2013/intimissimi9-2013.htm.

more fashion.at/mobile>

News from
August 2013
July 2013
June 2013
May 2013
April 2013
March 2013
February 2013
January 2013

subscribe
terms
imprint
(C) Sawetz, since 1996