Cycling routes through the Alps
In early May 2013, the Paznaun mountaineers from Tyrol, Austria announced the '19th Ischgl Ironbike Marathon' (3 August) and the '1st Ischgl Overmountain Challenge' (13 to 15 September with professional bikers like Jérôme Clementz and Dan Atherthon). At both events, hobby bikers can measure with professionals.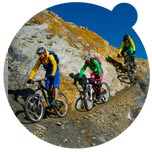 fig. original: The image shows three bicyclers on a challenging route through the Paznaun valley. Hobby bikers and professionals can compete at the 19th Ischgl Ironbike Marathon on 3 August and at the 1st Ischgl Overmountain Challenge from 13 to 15 September 2013 through the Paznaun region in Tyrol, Austria. Photo: TVB Paznaun-Ischgl; all rights reserved by pro.media.
During the last years, the Tyrolean mountaineers elaborated cycling tours for three different fitness and technique levels through this region of the Central European Alps. The levels start with family friendly leisure 'easy' tours with focus on panorama and landscape experiences, followed by 'moderate' tours with some challenging passages, and 'difficult' tours for extreme riders. The levels can be found in the Bike Guide together with 38 routes through the Paznaun valley. Each of the routes is marked with difficulty level, metres of altitude and descent and total distance in km, closer description such as cable cars, percentage of incline, etc. The numbers for heights and distances are visualized as chart together with the locations (metres height/km distance) of mountain stations.
The website ischgl.com is a good source for information around cycling in the Alps. From the Silvretta Bike Academy to guided tours, the website refers in the category e-bikes to movelo (a provider of electric mobility in Germany, Austria, France, Italy...) with listing of rental and battery charging stations - for the ones who prefer 'easy' leisure with panorama view.
Source: Original article with image on http://www.fashionoffice.org/motor/2013/ischgl5-2013.htm.

more fashion.at/mobile>

News from
April 2013
March 2013
February 2013
January 2013
December 2012
November 2012
October 2012

subscribe
terms
imprint
(C) Sawetz, since 1996