21 February 2013 - Short Message
#Music 'Black Belt' by John Grant from the album 'Pale Green Ghosts' (May, Partisan Records)
Recently, John Grant shared the electronic ballad 'Black Belt'; today, the musician unveiled the remix of the song by Baltimore duo Dungeonesse (Jon Ehrens of The Art Department and Jenn Wasner of Wye Oak). The remixers transformed the dance track and slowed it down! Listen the original 'Black Belt' by John Grant and the Dungeonesse Remix.
'Black Belt' is one of eleven songs from the upcoming album 'Pale Green Ghosts'; the release is announced for May via Partisan Records.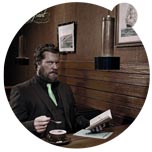 fig. original: Artwork of the new album 'Pale Green Ghosts' by John Grant (May 2013, Partisan Records).
John Grant tours in Europe: 13 March in London, 5 April in Rotterdam, 7 April Cologne, followed in April/May by cities like Berlin, Vienna, Milan, Paris, Dublin, to name a few. Find the tour dates on johngrantmusic.com/tour-dates/.
News from
January 2013
December 2012
November 2012
October 2012
September 2012
August 2012
July 2012

subscribe
terms
imprint
(C) Sawetz, since 1996