Levi's iconic piece: the Western Shirt

In the second half of August 2013, Levi's continued its 'Icons Reinterpreted'-series with the 'Western Shirt'. Each month, the jeans label presents another iconic piece. The designs reference original clothing from Levi's archives (since 1873). The 'Western Shirt' is the signature workwear of American cowboys and cowgirls from the 19th century and entered in the 20th century (1930s/40s) men's and women's everyday fashion.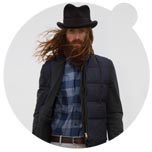 fig. original: Men's blue checked Western Shirt (worn with jeans down-vest, slim fit blazer and straight trousers) from Levi's 'Icons Reinterpreted'-series, seen in August 2013.

fig. original: 'Authentic Western Shirts' campaign image from Levi's archive.
Source: Original article with images on http://www.fashionoffice.org/collections/2013/levis8-2013.htm.

more fashion.at/mobile>

News from
July 2013
June 2013
May 2013
April 2013
March 2013
February 2013
January 2013

subscribe
terms
imprint
(C) Sawetz, since 1996