Pierre et Gilles for Life Ball
On occasion of the annual aids charity 'Life Ball' on 25 May 2013 in Vienna, French duo Pierre et Gilles created the artwork for this year's Life Ball motto '1001 Nights' referencing Scheherazade's stories with American model Tony Ward as djinn. The painting alike picture is inspired by the mythological figure 'Efrit' and will be used for the official Life Ball 2013 poster. Additionally, the Life Ball's own magazine (release 8 May) will present insights into the shooting and the work and life of Pierre et Gilles. In April, Life Ball sent some preview images of the making-of story.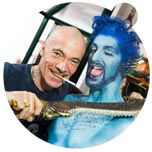 fig. original: Insight into the shooting of the Life Ball 2013 poster at the studio of Pierre et Gilles in Paris. The image shows photographer Pierre Commoy from the artist duo Pierre et Gilles and model Tony Ward. Photo: (C) Stefan Joham.
fig. original: Artwork 'Efrit' by Pierre et Gilles with model Tony Ward as djinn for the official poster of Life Ball 2013. 'Efrit' was photographed by Pierre, Gilles colored the image afterwards. Body painting by World Champion Birgit Mörtl; make-up artist Andreas Bernhardt. Photo: (C) Pierre et Gilles.
Source: Original article with images on http://www.fashionoffice.org/culture/2013/lifeball4-2013.htm.

more fashion.at/mobile>

News from
April 2013
March 2013
February 2013
January 2013
December 2012
November 2012
October 2012

subscribe
terms
imprint
(C) Sawetz, since 1996