MAC's new makeup is inspired by Latin American culture
MAC Cosmetics is known for its limited editions with references to seasonal lifestyle such as the currently in June 2013 available 'Temperature Rising' makeup range or to Zeitgeist themes which are influencing fashion as a whole - in these days it's Latin America and Brazil (Football Cup) which inspire designers from various fields.
For MAC Cosmetics, Latin America is pulsating sensuality and stands for passions like samba. Result of MAC's view is the formula 'heat - beat - exotic glamour' which was packed by designers into the shimmering colorful collection 'Tropical Taboo'.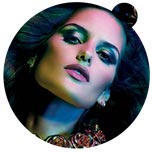 fig. original: Visual for the 'Tropical Taboo' makeup collection by MAC Cosmetics, limited edition July and August 2013.

fig. original: MAC Cosmetics Mineralize Skinfinish in the color mix 'Rio' (bronze with bright pink pearl) from the 'Tropical Taboo' collection; limited edition July, August 2013. The powder's nature-metal tones with glow effect are inspired by the Latin Lover spirit.
Source: Original article with images on http://www.beautyme.com/cosmetics/2013/maccosmetics6-2013.htm.

more fashion.at/mobile>

News from
May 2013
April 2013
March 2013
February 2013
January 2013
December 2012
November 2012

subscribe
terms
imprint
(C) Sawetz, since 1996