Motorcycle punk rock style with space glam
...seen at the end of May 2013 at Mango's new Autumn 2013 collection pieces.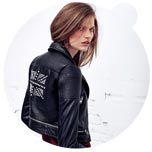 fig. original images 1 2: Mango 'Punk Rock' Autumn 2013.

The main color of the items is black, signature embellishments are metallic rivets in various forms from diamond rivets like on the hand bag below to spiky silver decorations (symbolizing the flag of the United Kingdom - the Union Jack - on the back of the motor sports inspired jacket).
One of the highlights is the 'Bowie' t-shirt showing British musician David Bowie in his famous 1970s androgynous alter ego role 'Ziggy Stardust'. The image originates from the album cover of 'Aladdin Sane' from 1973.
Watch the BBC documentary about David Bowie and his creation (fashion, haircut...) of the sexual provocative cultural icon Ziggy Stardust.

Source: Original article with images on http://www.fashionoffice.org/collections/2013/mango5-2013.htm.

more fashion.at/mobile>

News from
May 2013
April 2013
March 2013
February 2013
January 2013
December 2012
November 2012

subscribe
terms
imprint
(C) Sawetz, since 1996