First impressions from New York Fashion Week's stages: music performance, French-Spanish chic on classical runway, model line-ups for photo-shootings
On 7 September 2013, Fashionoffice reviewed the first materials provided by Mercedes-Benz Fashion Week New York which runs this year from 5 to 12 September (schedule).
The first impressions of NY's Fashion Week can be summarized with some words: the presentations and fashion pieces express pure zest for life!
New York-based designer Rebecca Minkoff for example, presented her label's new feminine urban looks Spring/Summer 2014 with the performance by Janelle Monáe (the musician will release her new album 'The Electric Lady' in the next days on 10 September). View the performance and catwalk show on rebeccaminkoff.com.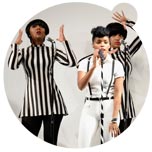 fig. original - clockwise, from left: Musician Janelle Monáe performs on the runway at the Rebecca Minkoff Spring/Summer 2014 fashion presentation. The next image shows one of the outfits on the runway; and the image left below, Rebecca Minkoff herself on the catwalk at Mercedes-Benz Fashion Week's center stage at Lincoln Center on 6 September 2013 in New York City. Photos by Frazer Harrison/Getty Images for Mercedes-Benz; (C) 2013 Getty Images.
Video: Desigual SS2014 on the runway at MBFashionweek New York on 5 Sept 2013.
One of the freshest and liveliest runway shows was delivered by Spanish label Desigual which brought the Mediterranean colorful feeling with so much style onto stage that it is impressing. Bangkok Post contributes the headline and introduction of an extended fashion week article to Desigual's collection which was developed in collaboration with Christian Lacroix. The publication cites Desigual CEO Manel Jadraque who said - according to Bangkok Post, that the collection is "practically Lacroix".
fig. original - from right: New York-based designer Gabriela Perezutti-Isacson at the Candela Spring/Summer 2014 model line-up fashion presentation on Mercedes-Benz Fashion Week's first day on 5 September 2013 in New York City. The image left shows a model in Candela outfit. Photos by Fernanda Calfat/Getty Images for Mercedes-Benz; (C) 2013 Getty Images. Video of the presentation.
Source: Original article with images and videos on http://www.confashion.com/ss2014/mbnyfw9-2013.htm.

more fashion.at/mobile>

News from
August 2013
July 2013
June 2013
May 2013
April 2013
March 2013
February 2013
January 2013

subscribe
terms
imprint
(C) Sawetz, since 1996