Otto Kern's refreshing presentation of Spring/Summer 2014 menswear in modern architecture with sailing boat appeal

In July 2013, German brand Otto Kern (founded by fashion designer Otto Kern in 1970, belongs today to Ahlers AG) sent the lookbook with photos of the label's styles for menswear Spring/Summer 2014.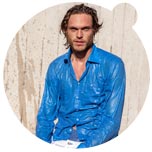 fig.: The collection reaches from aqua blue colored shirts, wool/linen suits in asphalt grey, trousers from cooling fabrics, over jeans and knit pullovers in various yarn qualities to leather jackets. The items were shot in a refreshing setting at the pool, in the garden, inside the house and on the terrace which reminds the deck of a sailing boat.
The delivery of the collection starts already in January 2014 with items in blue and green tones and greys
Source: Original article with images on http://www.fashionoffice.org/collections/2013/ottokern7-2013.htm.

more fashion.at/mobile>

News from
July 2013
June 2013
May 2013
April 2013
March 2013
February 2013
January 2013

subscribe
terms
imprint
(C) Sawetz, since 1996