Men's jeans style
...seen at the end of July 2013 at the new collection by Pioneer for Spring/Summer 2014.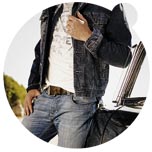 fig. original: The adventurous Wild One-spirit with 1950/60s touch is made of jeans with vintage appeal. The denim fabrics are woven from yarns of contrasting colors and weights, the jeans are pure or with effects of washes, the rivets show antique coloring.
"Pioneer Authentic Jeans has successfully repositioned itself on the market and presents a new visual concept and the brand claim "Be A Pioneer" for S/S 2014. The claim describes the lifestyle of the Pioneer men, self-confidently making their way while looking for quality and reliability." Peter Kelzenberg, Manager Pioneer Authentic Jeans.
Additionally to the jeans' blues, the label presents trousers and tops (shirts, t-shirts) in muted tones like faded bordeaux or dusty orange, and fruity summer colors from strawberry to lime.
Source: Original article with images on http://www.fashionoffice.org/collections/2013/pioneer7-2013.htm.

more fashion.at/mobile>

News from
July 2013
June 2013
May 2013
April 2013
March 2013
February 2013
January 2013

subscribe
terms
imprint
(C) Sawetz, since 1996