Searching for ideas for Mother's Day?

At the end of March 2013, wash hand basin stopper label 'Plopp' presented some ideas for Mother's Day (celebrated in many countries this year on 12 May) such as the one on this page with five stars and the writing 'Hotel Mama'!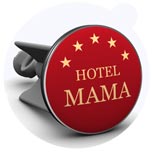 fig. original: Stopper 'Hotel Mama' by Plopp for the wash hand basin; gift idea for Mother's Day 2013 (12 May). Plopp is the design wash hand basin plug label by the German start-up 2ca.
On the label's website Plopp.co, various stoppers for wash hand basins are presented in categories like 'I Feel Good' or 'Home Sweet Home'. In the category 'Badekappenträger' (could be translated as 'bathing cap wearer'), there are stoppers which are literally stopping the user and not only the water from sinking such as one with the symbol for 'Don't piss into the Basin' or the plug with 'Save Water' writing on an inflamed earth-bomb.
Source: Original article with image on http://www.fashionoffice.org/culture/2013/plopp3-2013.htm.

more fashion.at/mobile>

News from
March 2013
February 2013
January 2013
December 2012
November 2012
October 2012
September 2012
August 2012

subscribe
terms
imprint
(C) Sawetz, since 1996