Rikscha-taxis, t-shirts, film and music

Poolbar Festival (Feldkirch, Vorarlberg in Austria) sent the program and information about the upcoming concerts and events at the annual festival which starts this year on 3 July and runs until 15 August 2013. Main venue is the 'Altes Hallenbad' (translated 'Old Indoor Swimming Pool').
The music program for the venue 'Altes Hallenbad' contains well-known names like Little Boots (12 July) or Austra (1 August). On occasion of this year's 20th edition of the Poolbar Festival, the organizers will set up for the first time in the festival's history an open-air stage on a green field where musicians like Clara Luzia (video below) will perform on 20 July.
Brand new at this year's edition of the festival are the rikscha-taxis for the distances between the railway station Feldkirch and Altes Hallenbad, and the 'Silent Bicycle-driven Open Air Cinema' (30 June - 3 August) - the movies can only be viewed when the open-air cinema guests pedal and produce the required energy for the screenings themselves via bicycles.
And then there are the Poolbar Style t-shirts, dresses and hoodies with illustrations that are inspired by the spirit of the festival; such as the one on view on this page with a colorful owl-print.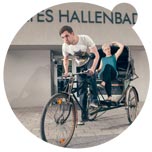 fig. original: The image shows a rikscha-taxi in front of the 'Altes Hallenbad'. The rikscha is driven by a man who wears one of the Poolbar Style t-shirts with the illustration 'Die Eule' (transl. 'The Owl') by Isabel Seda while a woman sits on the guest seat; Poolbar Festival in Feldkirch, Austria (3 July - 15 August 2013). Photo: (C) Matthias Rhomberg; http://facebook.com/matthias.rhomberg; http://www.rhomberg.cc.
Video: 'No One's Watching' by Clara Luzia, album 'We are Fish' (1 March 2013, Asinella Records AR15).
Source: Original article with image and video on http://www.fashionoffice.org/culture/2013/poolbar6-2013.htm.

more fashion.at/mobile>

News from
June 2013
May 2013
April 2013
March 2013
February 2013
January 2013
December 2012
November 2012

subscribe
terms
imprint
(C) Sawetz, since 1996