Fly bird, fly!
...could be the motto of the setting for the catalogue shooting by the Viennese couture store Popp & Kretschmer for the presentation of Spring/Summer 2013 items by international designers like Roberto Cavalli, Oscar de la Renta, or Emilio Pucci.
At the end of March 2013, the catalogue was unveiled. The images present the couture pieces (mostly evening and festive dresses) in a romantic, awakening nature scenery with fairy tale alike mysterious landscapes and open bird cages. The setting fits perfectly to the idea of Easter and Passover festivities which are about stepping into a new life. Freedom is the nature of prosperous life!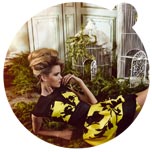 fig. original: Cocktail dress with generous floral print by Leonard, presented by Popp & Kretschmer for Spring/Summer 2013. Photo: Rafaela Pröll.
Video: For the first time, the Vienna-based couture store Popp & Kretschmer publishes an official making-of video of a catalogue shooting. Creative director of the Spring/Summer 2013 catalogue shooting was Anita Trefelik (CEO of Popp & Kretschmer), photographer Rafaela Pröll, model Michelle Westgeest from the Netherlands, set styling by Andreas Lackner (from 'perfectprops', agency for hair, make up, styling, stage setting); location Palais Gschwandner in Vienna.
Source: Original article with image and video on http://www.fashionoffice.org/collections/2013/poppkretschmer3-2013.htm.

more fashion.at/mobile>

News from
March 2013
February 2013
January 2013
December 2012
November 2012
October 2012
September 2012
August 2012

subscribe
terms
imprint
(C) Sawetz, since 1996