Fashionoffice's selection for the rain and colder days
...seen on 14 August 2013 at the knitwear pieces from the new ski collection FW2013/14 by Toni Sailer (the exclusive brand is named after the Austrian alpine ski racer) and the upcoming family outdoor range of shoes, ponchos, etc for rainy days at the coffee bar chain Tchibo.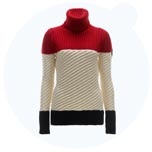 fig. original: Knit pullover 'Ludmilla' in flame red, white and black with 3D effects made from different knit techniques, Toni Sailer Fall/Winter 2013/14. The Toni Sailer collections are available in selected ski resorts all over the world.
fig. original: The European coffee bar chain Tchibo will sell the rain boots for women in black with red zip and two clasps at its integrated lifestyle goods stores from early September 2013 on. Photo: (C) Studio Kumicak + Namslau Boris Kumicak Gertigstr. 12 - 14 22303 Hamburg.
Source: Original article with images on http://www.fashionoffice.org/collections/2013/rainwalk8-2013.htm.

more fashion.at/mobile>

News from
July 2013
June 2013
May 2013
April 2013
March 2013
February 2013
January 2013

subscribe
terms
imprint
(C) Sawetz, since 1996