Fashion, aircraft and a travel logbook

In early February 2013, the travel luggage label Rimowa presented the new lookbook 2013 together with impressions from a transatlantic flight with the historical airplane JU52. The manufacturing year of the Junker aircraft is 1939. Two years earlier in 1937, Richard Morszeck (son of Rimowa founder Paul Morszeck) discovered the benefits of aluminum; in 1950, the signature style of the label's metal travel cases (light-weight grooved aluminum) was born.
The flight with the historical JU52 (max. speed 210 km/h, seats for 17 passengers, 4 crew) started in Leverkusen nearby Cologne - the headquarter of Rimowa, in Germany, and leaded to destinations in US like New York (photos, video below) or Los Angeles (video with impressions from the Grand Canyon at the end of this page) where Rimowa invited to events like a banquet dinner in New York. Rimowa publishes on its website the flight logbook with route map, photos and videos from the flights, destinations and the events. And in some of the logbook videos appears a red dressed alphorn blower such as in one where he stands on the aircraft's wing. Fashionoffice has found no further information about this 'wing man'. Perhaps the blower of the traditional Swiss instrument 'alphorn' stands for the final destination of the route which was finished in Dübendorf in Switzerland.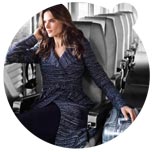 fig. original: The campaign images of the Rimowa Lookbook 2013 were shot by photographer Horst Diekgerdes with the models Alessandra Ambrosio (Brazil) and Johannes Huebl (Germany), fashion styling (with a touch of 1940s, 50s) by Claudia Englman, at the Son Bonet Aerodrome on the Spanish island Mallorca.

fig. original: The Rimowa JU52 crossed the Hudson River and circled the Statue of Liberty in New York; video. Photos: (C) Frank Theisejans; all rights reserved.
Video 'Rimowa JU52 Grand Canyon' from Rimowa's flight logbook destination Los Angeles. The alphorn blower appears at the end of the video.
Source: Original article with images and video on http://www.fashionoffice.org/motor/2013/rimowa2-2013.htm.

more fashion.at/mobile>

News from
January 2013
December 2012
November 2012
October 2012
September 2012
August 2012
July 2012

subscribe
terms
imprint
(C) Sawetz, since 1996