Vienna Insight by Karin Sawetz, publisher Fashionoffice
(14 September 2013)

Waterproof boots for heavy rain
Today, the weather is for the first time this year really 'autumn' in Vienna: it rains heavily, the sky is a middle-grey cloud-wall and the temperature is more than fresh (around 13° Celsius at 9:00). It's the best weather for rain boots such as the ones on this page by Sorel with signal red high or low heel and culture programs like visiting the runway shows and designer booths at MQ Vienna Fashion Week.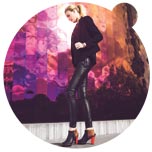 fig.: original: 'Medina' rain ankle boot with red high heel (closer look), 'Slimpack Riding Glow' rain ankle boot - both models are waterproof and designed for heavy rain; Sorel FW2013/14.
Related links:
+ Meeting with a freeskier at Sorel's press day
+ Opening day of Vienna Fashion Week
Exhibitions:
+ Sport, social research, clothing campaign
+ Viennese Types
Source: Original article with images on http://www.fashionoffice.org/collections/2013/sorel-rainboot9-2013.htm.

more fashion.at/mobile>

News from
August 2013
July 2013
June 2013
May 2013
April 2013
March 2013
February 2013
January 2013

subscribe
terms
imprint
(C) Sawetz, since 1996