Making of sport shoes for kids
...seen in early April 2013 at the Superfit Spring/Summer 2013 collection presentation.
The making of video by the shoe label Superfit provides insights into the production process of kids' shoes. Additionally, Superfit sent tips for shoe care such as filling wet shoes after rainy days with paper for drying. The drying trick tip was accompanied by the remark that shoes should never be dried on the oven or under the sun (could harm the material like leather). Practical hints seem to be also the ones concerning the selection of footwear like calculating 12 mm free space for fast growing children feet when buying new shoes. Superfit publishes online the shoe size scale which makes it easier to calculate the right size.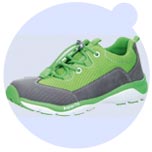 fig. original: Children sport shoe in grass-green and asphalt-grey, Superfit SS2013.
Video: Making of sport shoes for kids - from the design to the finished shoe; insights into the production at Superfit (the Austrian shoe label exports to 39 countries, belongs to Graz-based Legero Schuhfabrik).
Source: Original article with image and video on http://www.fashionoffice.org/collections/2013/superfit4-2013.htm.

more fashion.at/mobile>

News from
March 2013
February 2013
January 2013
December 2012
November 2012
October 2012
September 2012
August 2012

subscribe
terms
imprint
(C) Sawetz, since 1996