Beach skirt and pool party dress in one
In early May 2013, coffee brand Tchibo announced that the dress 'Vario' will arrive at the label's coffee bars in the second week of June. The European coffee bar chain with integrated lifestyle goods stores is known for weekly new products - fashion, home products from furniture to cooking utensils, electronics - for very affordable prices.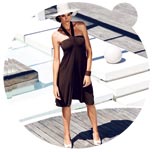 fig. original: The chocolate brown clothing piece is made from viscose/elasthan stretch material and can be worn in various styles such as long skirt or knee-length dress. The ties which are used on the photo right as belt are the neckholders below. The price for the practical item is sensational: around 15.- Euros! In Tchibo stores in three sizes S, M, L from 36 to 46 in calendar week 24, June 2013.
Source: Original article with images on http://www.fashionoffice.org/collections/2013/tchibo5-2013.htm.

more fashion.at/mobile>

News from
April 2013
March 2013
February 2013
January 2013
December 2012
November 2012
October 2012

subscribe
terms
imprint
(C) Sawetz, since 1996